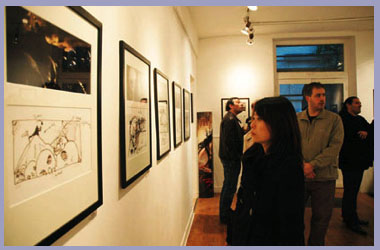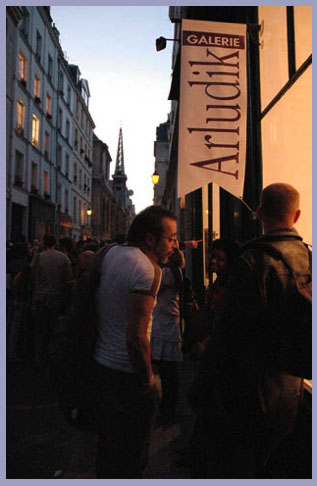 The Gallery has showed exhibtions from artists coming from allover the world, whose creativity and style richness enchanted art lovers from the entire world :
drawings and large watercolours Blueberry portraits series by Moebius, Canvas by John Howe which mystical inspiration call to mind the Lord Of The Rings (was the conceptor artist for the movie trilogy), Preparatory skecthes drawings from "Ice Age" (Blue Sky Studio), Original drawings from Disney, Skecthes from "Star Wars Clone Wars" by Genndy Tartakowsky, Digital paintings from "Lara Croft" by its creator Toby Gard, the amazing backgrounds of Katsuhiro Otomo for "Steamboy", the delicate lines of Mangaka Taniguchi, Satoshi Kon or Benjamin, the chinese mangaka master, the Goef Darrow energetic lines through his researches for "Matrix", those of Zack Snyder for "300" and the "biomecanic" sculptures by Giger, the "Alien" creator but also digital paintings by Arthur de Pins, Marjane Satrapi and Vincent Paronnaud drawings for "Persepolis", drawings from Pixar studios for Ratatouille, etc.
This living place, definitly ludic, is probably one the very few Galleries that recieves Art Collectors but also many school kids on wednesdays !
In 2005, Arludik's team also set up the huge and very successful "Mitazaki-Moebius" exhibition at the Monnaie de Paris museum which welcomed more than 110 000 visitors in 3 months.